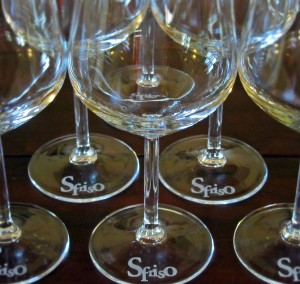 The question might seem simple with a simple answer. Most of you I am sure would say "put the glasses in a dishwasher!". Ok, lets wash our wine glasses with the dishwasher, we do it for convenience, but the end result is never ever perfect, at some point there are those horribly looking stains. Now, let me ask you this: would you like to be served in a not perfectly clean glass? I guess not. For a winery like ours it is of extreme importance to have the right glasses and to have them perfectly clean for our wine tastings.
So happens that we sold out all our tasting glasses and are looking into buying new ones. I was in Munich last week and given that it's just a few hours drive I drove over the beautiful Dolomites and on the way there is Kufstein (Austria), the home of Riedel, THE wine glass company! So on my journey there I was in a hurry, but on my way back it was a mandatory stop.
Once you get to Kufstein, it is pretty obvious that you have just arrived to "the home" of wine glass production, everywhere you look there are statues or signs of glasses. Arriving at Riedel, you can buy glasses at their Outlet, or just get overwhelmed in their normal store where they have in exposition all their thousands of glasses. Needless to say that the amount of beautiful and design wine glasses blinds and confuses a person who has intentions to buy. There are endless marvelous styles, names, form, sizes, purposes, how can a normal person choose? Well, this was also true for me, I didn't buy any glasses. I did buy one thing, though! Advised by my friends Elisabetta and Giampiero I bought the microfiber polishing cloth! So now I have the right tool to clean the glasses I don't have! Anyway, this cloth opens a whole new dimension and satisfaction to cleaning wine glasses!
Here is how they say you should do it:
1. wash your glasses under warm water without detergent
2. put the glasses on a linen to drain
3. to get an extra shine, steam the glasses over boiling water
4. to polish the glasses use the microfiber polishing cloth
So far we were good until number 3, we were missing number 4, the miracle cloth!
How to polish your glasses:
1. hold glass by the bottom and polish
2. never ever twist the base and the bowl, it's the best way to break the glass!
3. hold the bowl with one hand and polish with the other
Yes, number 2 is absolutely true, God knows how many glasses we have broken by twisting the glass while cleaning it!
If you still choose to wash your wine glasses in the dishwasher here are some extra advice:
* To prevent scratches avoid glass contact with metal or other glasses
* Use a stemware rack if you have one
* to avoid those very annoying stains use soft water
* if you have hard water, use white vinegar to remove them!
So given that we have hard water and there is not much we can do about it, can either use my miracle cloth or use vinegar!
Cheers,
Reka