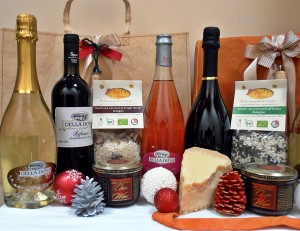 Now that we have finished harvest and the winery works are slowing down, it is time to get organized for the autumn and winter events. One of these events is Christmas. That's right, there are less than 2 months left and we are already working on Christmas. In fact, we are a bit late but since we are wine producers, harvest comes first and this year we are delayed by 2 weeks.For
For years, we did not do Christmas packs for the simple fact that nothing inspired us. We are tired of the usual baskets, cartons, and cases, and lacked proposals for innovative containers. This year, however, we found a valid solution, the eco-friendly bags.
These bags are made without cutting down any tree, and their processing is done in total respect of nature with coloration made with natural and non-toxic colors. The raw material is the Abaca, a plant grown in the Philippines used for the production of ropes and textiles. These bags are beautiful, elegant, durable and reusable as well as eco-stainable.
We're tired of hearing about Bio, Eco, Eco – Sustainable, Natural, and so on. We understood the importance of nature becoming parents. Our vision of the world changed completely when we started thinking about the future of our children, and only then we began to give value to these words that unfortunately today nobody can appreciate and respect so that everyone is talking about them too much. It is not enough to just agree with the philosophy we should also act and live it every day through the garbage we throw away, the food we buy relying on its packaging, and this is also true in terms of how we cultivate our lands. Our vineyards, for example, are full of insects, pheasants, birds, and we even let wild roses grow, if our vineyards were heavily treated with chemicals there would be a total silence around here. We also have two daughters who grow up in these vineyards, so for us, the respect for nature is of utmost importance.
That's how our philosophy coincides perfectly with the philosophy of these eco-friendly bags, and have decided to recommend them with products that we ourselves eat and drink, a nice way to share with you our world of Sfriso tastes. Here is an example:
Sfriso Christmas shoulder Eco-Bag with:
• Three bottles:
* A Prosecco DOC Frizzante for the aperitif
* A Refosco dal peduncolo rosso to match with the Risotto
* An aromatic sparkling wine "Gaio" for the end of the meal
• a bag or Risotto with Nettles or Organic Porcini Mushrooms also suitable for a gluten-free diet (250g)
• a jar of Choco & Wine Dark Cream Chocolate prepared with our Refosco dal peduncolo rosso (212g)
• and cheese that easily combines with all the wines, which is a great Latteria Vecchio from our cheese shop of confidence vacuum packed in 500g size.
There are different proposals with different prices, so you can choose what you like best.
For specific inquiries please contact us and we will try to meet your requests.