Try cooking with Refosco! This is a perfect dish for the cold and dark days that await us! We guarantee that you will not regret it!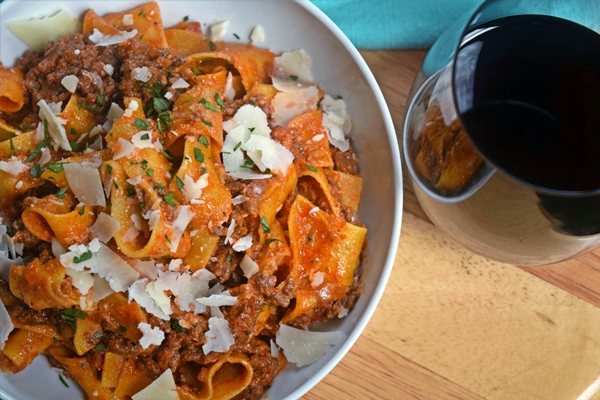 Pair with: Sfriso Refosco dal Peduncolo Rosso
Serves 4
Ingredients: 


2 tablespoons olive oil (30 mL)
1 small shallot, minced
1 celery rib, finely chopped
1 carrot, finely chopped
1 large clove garlic, minced
1/2 teaspoon crushed red pepper flakes (2 1/2 mL)
Coarse salt and cracked black pepper
1 pound ground lamb (450 g)
1 teaspoon ground fennel seeds (5 mL)
2 teaspoons freshly chopped rosemary (10 mL)
1 tablespoon tomato paste (15 mL)
1/4 cup Sfriso Refosco (60 mL)
1 cup crushed tomatoes (240 mL)
1 pound fresh or dried pappardelle pasta (450 g)
1/2 cup ricotta cheese (120 mL)
1/2 cup freshly shaved Pecorino cheese (120 mL)
1 tablespoon finely chopped parsley (15 mL)
In a large skillet, heat the olive oil over medium heat. Add the shallots, celery, carrot, garlic, red pepper flakes, and a generous pinch each of salt and pepper and cook until softened, about 3 to 5 minutes. Turn the heat to medium-high, and add the ground lamb, fennel, and rosemary. Season with a generous pinch each of salt and pepper and sauté until the lamb is nicely browned. Add the tomato paste and stir until thoroughly combined. Add the Refosco, scraping up any brown bits from the bottom of the pan with a wooden spoon. Simmer for 5 minutes, and then reduce the heat to medium-low. Add the crushed tomatoes and simmer for an additional 30 minutes.
Meanwhile, cook the pasta according to the package directions (reserving a bit of the starchy cooking water before draining). Add the cooked pasta to the pot of ragu and toss with the ricotta and half of the Pecorino—using the reserved pasta water to loosen the sauce if it's too thick. Divide among plates and garnish with the remaining Pecorino and parsley.
Buon Appetito!
Recipe and photos developed by Fanny Slater, winner of the Rachael Ray Great American Cookbook Competition!