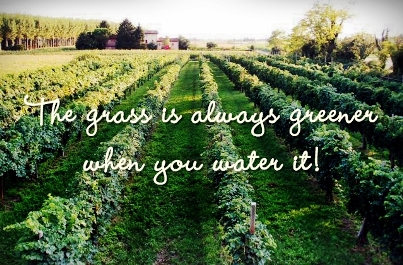 The world of wine has knocked on our door in 2002 and told us that from that day on it would remain for quite a while. It wasn't a joke, it was true.
We are not connoisseurs or professionals, but we have learned something from that day on. Our lives stumbled upon this Winery very suddenly, and our fortune is still that we are not traditionally farmers and that we see our business from a different perspective.
We are customers of ourselves and produce wines according to our own tastes. We think that if we like them others will too. It goes without saying that our endless international experiences have given us so much, that our philosophy and way of dealing with the challenges are what set us apart.
This wealth of experience is the foundation of our company and our brand Sfriso. We could write an entertaining and more or less comic book full of funny stories but for now, we prefer to communicate, spread and share our world of taste and philosophy.
There is so much to tell, there are so many stories and so many thoughts, we will try to make you understand that this world of wine, which at first glance seems complicated, difficult and mysterious, actually turns out to be simple and pleasant. For years we've climbed a mountain that grew with every step of the way, then suddenly we stopped looking up at the mountain's top and started to build our own road with a different landscape and more suitable for us.
We knew we had to create our own world with our colors and inside of our own universe. It was a profound emotional relief to understand that we should not go behind the others and we should not compare ourselves to them.
We have been following for years the moves of our colleagues, large producers thinking that what they did was obviously the right thing to do. We always felt misplaced and tiny because we are small and we are also the "new kids on the block". Everything seemed out of its place. Everything about this business was discouraging.
Then a light bulb went off, we understood that we are just like many wine-loving people, consumers who drink wine for the pleasure of sharing, for the moment and sense of satisfaction that the glass of wine conveys. We fit into the category of people who do not try to be a snob or seem like a connoisseur. We are simple people who know how to appreciate a good wine.
It's simple, before being producers we are consumers and with this philosophy, we produce our wines and choose the products that accompany our world. At the end, our wines represent our essence and the grass isn't always greener on the other side.
Cheers,
Reka