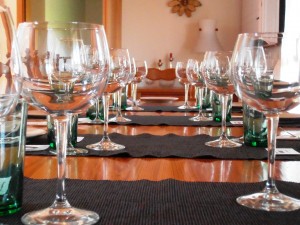 The idea of "taking our tastings around Europe" came from a request of a friend of ours when she asked us if we would be interested in participating at an evening organized by her children's school. All we had to do was take some wines for tasting during the evening and talk about them, just for entertainment.
Given that honestly speaking we are addicted to traveling we figured that it's a good idea to participate and to help our friends in their event organization. So Pier left for Bratislava without really knowing what to expect but he was not worried at all because nothing bad could come out of an evening organized by the British International School of Bratislava.
The event was held in a beautiful 5-star hotel downtown Bratislava and the participants were people from all over the world who had their kids going to that school, they were mainly expats. The evening was quite a success, people were very eager to taste and buy our wines and the organizers of the event were very satisfied as well.
So Pier comes back home and it was clear that a project had just born. The basic concept is to take our tastings to anyone who is looking for some wine entertainment in a relaxed and easy way. We take our wines, our wine glasses, cheese from our local cheese store and salami from our local butcher. The rest we buy locally to match our wines also to local tastes. So this year we have already held 5 of these tastings and are looking to organizing just as many by the end of the year, which is not bad given that the project started this year.
The first three tastings of this year were held in Switzerland in a small town called Sarmenstorf. The first two were at a friend's house, she is Sandra. The third evening was organized at Sandra's friends' house, Richard and Janet, who had participated at the first event in January and thought it would be nice to organize it for their friends as well. The fourth and fifth events were organized in Sweden, on the west coast island called Kladesholmen, just north of Gothenburg at Johannes and Mirja's summer house. Both in Switzerland and Sweden we matched our wines with local food so people could actually have the tasting with their local and our local delicacies.
But let us explain what exactly happens during our events.
So let's get back to the Sfriso basics, our tastings go along the same exact concept as everything we do, which means that we do them for people who simply enjoy wine in a relaxed way. For people who love dedicating their time for themselves with a nice glass of wine. So just by the concept, the tasting is an entertaining and fun event filled with lots of chit-chatting and laughter (and of course wine and some delicious nibbles).
All a host needs to do is to provide a big enough space for at least 10 – 25 people and a kitchen where we can prepare the nibbles. This space can be a dining room, a garden, a terrace, you name it, as long as it can fit comfortably the people invited. We can organize a standing tasting as well as a sitting around the table tasting. It is really up to the host, but we can also advise if needed. The whole event takes time, so be sure to count on at least 4 to 5 hours event as we have 5-6 wines to taste. You might think it is too much time, but the hours really do fly by as we drink, eat, and laugh it away.
These events are a huge source of inspiration for us. We meet new people, we live new cultures and taste new things with our wines. We also get to travel which is our second favorite hobby! The people we meet get to learn and taste new things and have fun with Pier's great humor. Once a lady said he should have his own TV show because he is so entertaining and funny, well, maybe someday, for now, we enjoy taking our Sfriso tastings around Europe!